8 Makeup Removal Methods for Cleaner and Clearer Skin
Cosmetics have been around for as far back as we can trace human history. In fact, the Egyptians used beauty pills to keep their skin clean and clear. Today, makeup is seen as the "essential cosmetic" and part of a daily routine. The problem is that most people aren't removing it properly.  We offer here some makeup removal methods for cleaner and clearer skin.
There's no denying the enhancing quality of makeup, but it's not a good idea to wear your makeup to bed. This can lead to skin irritation, clogged pores, and acne. Makeup removal (doing it the right way) should never be skipped in your skincare routine. 
If you're unsure about the best way to take off your makeup, we've got some tips for you. 
To avoid irritated or dehydrated skin, you should always remove your makeup as gently as possible. Rub a soothing cleansing oil all over your face and wait a few minutes for your makeup to loosen. After that, a gentle swipe of a cotton pad with cleansing oil is all you will need to strip the makeup away. No rubbing is required! 
Baby wipes are commonly used to remove makeup. They certainly won't hurt you, but they just aren't designed to break down the oils that accumulate on the face of adults. You're better off using traditional makeup removal pads. 
Removing blush and foundation can easily be accomplished with cleanser. All you need to do is massage the cleanser into your skin, wait for fifteen seconds, then remove with water and a washcloth.  Some of our favorite cleaners that we offer at Vibrance are the Image Vital C and Ormedic Balancing Cleansers (pic below), which are gentle and great for all skin types.
We can't stress the importance of exfoliation enough. After working out, walking, or even wearing makeup, it's very important you clean your skin. You don't want any leftover dirt or grease clogging your pores, do you?
When you exfoliate, it's important you keep it gentle and use room temperature to cool water with the correct products for your skin type. If you have sensitive skin, exfoliate two to four times per week to minimize irritation.  
5. Be Careful with Your Eyes
You shouldn't use excessive scrubbing to remove any kind of makeup. This is especially true for mascara and eyeliner. The skin around your eyes is very delicate, and it's easy to get eye infections when you don't remove makeup.
Use a cotton pad with a dab of a dual-phase remover (or oil-based for waterproof liners) formulated specifically for your eyes. Press the pad over your eyelids and leave it on for about ten seconds before gently wiping away.  To help minimize puffiness and fine lines around your eyes, try one of the Image eye creams after you remove your makeup, before going to bed.
If you aren't using a toner, we highly suggest you start. Through the process of taking off your makeup and cleaning your skin, you're altering your skin's natural pH.
Toners are great at restoring your skin's pH and glow, as well as providing essential nutrients. When removing your makeup and cleaning your face, you should always revitalize your skin with a great toner. 
Moisturizers are an important part of any skincare routine. Many of the moisturizing products we offer, including the Image Vital C (pic below) and  Ageless Anti-Aging Serums, utilize advanced ingredients, like antioxidants, that work at a cellular level.
Not only do they provide pH balance for your skin, but they repair damaged skin, reduce wrinkles, and stimulate cell turnover for younger-looking skin. SPF is also a necessary step of your daily moisturizing routine.
8. Clear and Radiant Skin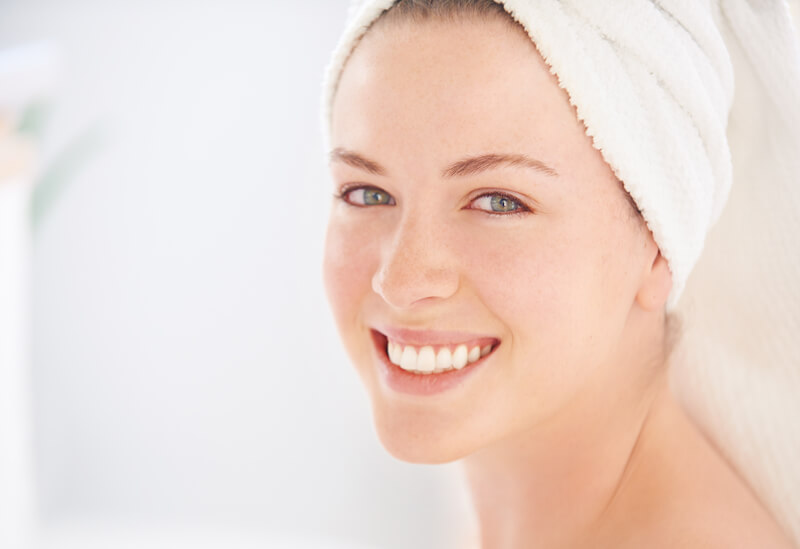 The path to obtaining clear and radiant skin doesn't stop because you used one of the best makeup removal methods. There are other factors in maintaining healthy skin. The right skincare products can take your results to a new level. Knowing if you have dry, oily, or combination skin is just the tip of the iceberg when it comes to beauty products.
Once you have a skincare routine in place, give your radiance a boost with a facial or a correcting peel. Pamper yourself and your skin to achieve a vibrant result.
If you have a routine but still have problem areas, consider professional help and contact us. We will diagnose your skin type, discuss your skincare goals and work with you to get your skin back-on-track.