What Happens to Collagen as We Age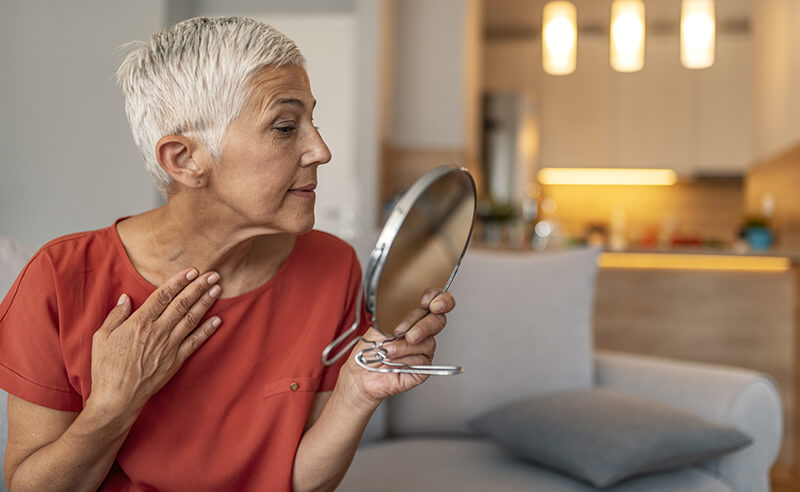 Collagen is one of the most important substances in your body. It's a glue that helps the body maintain its shape and structure by binding tissues and cells.
With age, natural collagen production begins to slow, and cell structures weaken. Skin becomes thinner and sags while ligaments lose their elasticity, joints get stiffer, and much more.
In this article, we'll dig deeper into what collagen is, how it works, and methods to replenish it in your body regardless of how old you are.
What Is Collagen?
Collagen is a protein found in muscles, tendons, skin, ligaments, and bones. It makes up about 30% to 40% of proteins in the human body.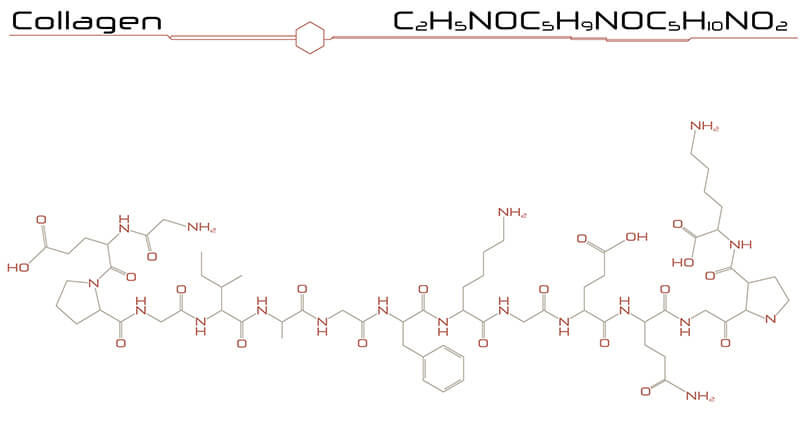 Naturally, collagen occurs exclusively in animals. It's part of the connective tissue, which is responsible for the firmness of different structures in the body. While it is vital for the overall integrity of your body, protein is especially important for the skin's elasticity.
At least 16 types of collagen exist. However, the first three types account for about 80% to 90% of it.
• Type I – accounts for about 90% of all collagen in your body. It helps keep cells and tissues together in the skin, tendons, bones, teeth, and fibrous cartilage.
• Type II – is found in elastic cartilage and cushions joints.
• Type III – supports the integrity and structure of organs, arteries, and muscles.
How Does Collagen Affect Your Skin?
Collagen comprises 70% of the dry skin mass. It strengthens your skin and benefits its elasticity and hydration. Collagen fibers create the infrastructure for elastin and hyaluronic acid, which are responsible for skin's elasticity and hydration.
As you age, your body starts producing less collagen. The skin becomes thinner, drier, and less elastic. The loss of collagen leads to wrinkle formation.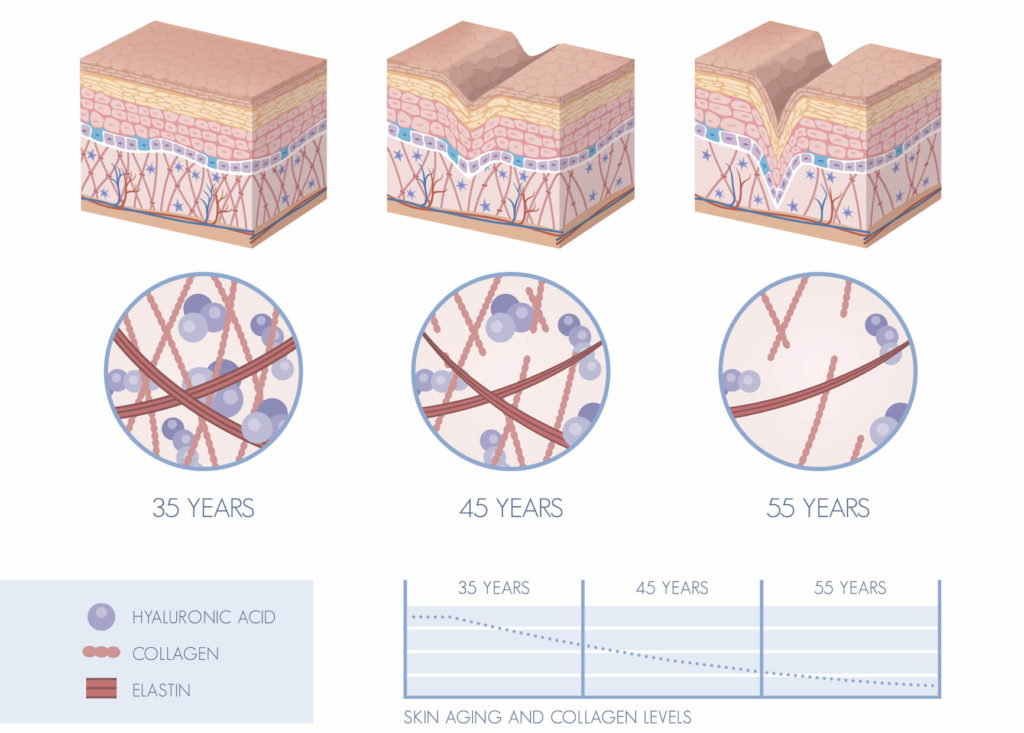 Your body begins to lose collagen when you turn 30. The effects become noticeable after several years. Even though this is a natural process, it's possible to speed it up with UV exposure, pollution, bad habits, and poor diet choices.
As the amount of collagen decreases, other parts of your body suffer as well:
• Bones – become weaker and more fragile
• Joints – cartilage wears out, making it tough to stay active
• Muscles – function decreases affecting mobility and balance
While it's possible to accelerate collagen loss, it's also possible to slow it down. We'll talk about this a little later.
Signs You Are Losing Collagen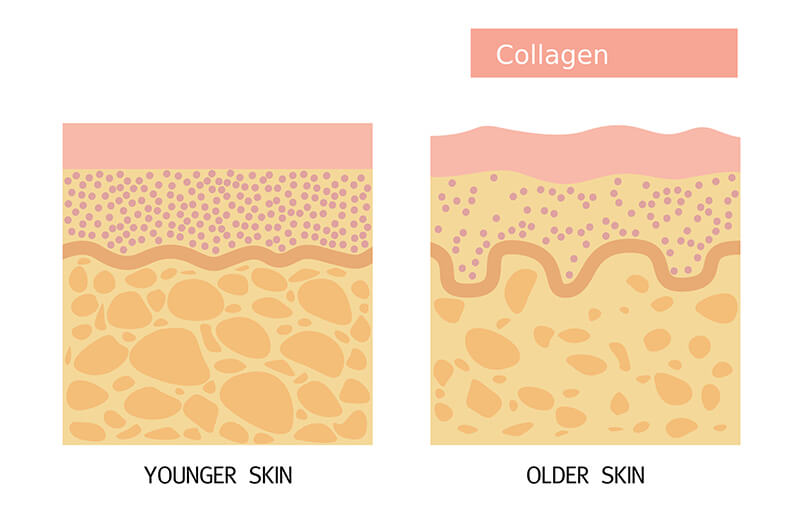 The loss of collagen affects the way you look and feel. The first signs may be subtle. However, the earlier you start, the more you can do to replenish the collagen in your body to see positive results.
1. Loss of Natural Fullness
Cheeks become flatter while the under-eye area develops hollows. Unless you've lost a lot of weight recently, these are probably signs of collagen loss.
2. Joint Pain
As you start losing collagen, joints begin taking more wear and tear. Eventually, they may start hurting during everyday activities.
3. Sagging Skin
Since collagen powers skin elasticity, as it starts decreasing so does the firmness of your skin. You may notice the sagging effect on your jawline, cheeks, buttocks, and stomach.
4. Wrinkles and Fine Lines
Since the loss of collagen leads to the dehydration and thinning of the skin, wrinkles and fine lines begin to appear.
5. Lifeless Hair
Hair begins to thin and stops looking as healthy as it did before. You may also notice hair loss. As the amount of collagen starts decreasing, hair could begin to split and break.
6. Weight Gain
The decrease in collagen could slow your metabolism. As a result, you may start gaining weight even if you don't change your eating habits.
7. Teeth Problems
Collagen plays a vital role in anchoring your teeth to gums. You may start having problems with your teeth, such as pain, sensitivity, and premature decay.
8. Weak Blood Vessel Walls
As the collagen levels decrease, so does the strength of the blood vessels walls. You may experience, dry eyes, headaches, breathing problems, skin rashes and more.
It's worth noting that all the above symptoms may also signal other health conditions. That's why it's important to consult with your doctor, avoid self-diagnosis, and be careful about self-prescribing any supplements or medication.
Replenishing Collagen in Your Body
As the body starts losing collagen, and adverse effects begin to become bothersome, people look for ways to replenish this highly important protein. Several methods exist today.
1. Taking Supplements
Supplements are one of the most popular ways to increase collagen levels. Some studies show that they may improve the elasticity and appearance of your skin.
While numerous studies have been done to back the efficiency of collagen supplements, this method isn't approved by the FDA.
It's also worth noting that you can only enjoy the benefits while you are taking supplements. As soon as you stop supplying your body with collagen, effects may disappear.
2. Adjusting Your Diet
To produce collagen, your body needs nutrients from protein-rich food as well as vitamin C, zinc, and copper. You can help your body by adjusting your diet to provide it the necessary building blocks.
Beef, chicken, fish, eggs, dairy products, and beans are all rich in protein. One of the most helpful products is bone broth.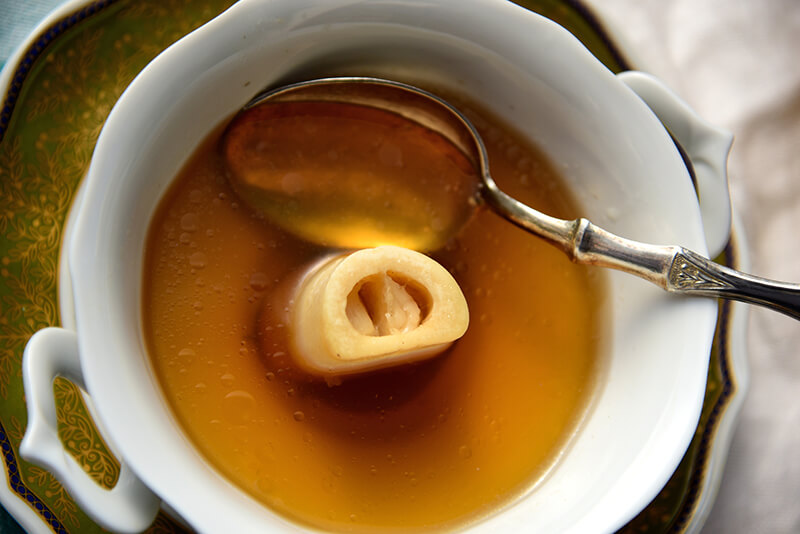 However, eating it regularly may not agree well with your stomach. That's why it's important to consult a professional about any serious diet changes.
3. Battling Bad Habits
According to a study published in the British Journal of Dermatology, smoking affects your body's natural collagen production, thus leading to early skin wrinkling and sagging.
By quitting smoking, you are giving your body a chance to restore its collagen production abilities.
Final Thoughts
Collagen is one of the most important proteins in your body. Maintaining sufficient collagen levels sufficient is vital for your health and appearance.
It's easier to prevent the loss of this important protein by adjusting your diet and quitting smoking than to replenish it down the road.
For more information about achieving a more vibrant look and increasing your collagen levels, contact us.